Stay in Shrewsbury
Whether your visit is for work or leisure, we have the accommodation to suit!
Shropshire, Our Country's Hidden Gem
Planning A Visit to Shrewsbury?
Thank you for taking the time to learn about our Shrewsbury properties and saving our Web App to your mobile device.
I'm Jo Henshaw and you are guaranteed to receive a warm welcome when you visit any of our properties. However long you plan for your visit, look no further, we've got it covered!
For our short stay visitors, we have our welcoming bed & breakfast, "Charnwood Guesthouse", and, for our longer stay visitors, we have three options available; a semi-detached holiday cottage plus the choice of two town centre apartments.
Now Available: Three bedroom holiday let in historic Wesley House, located in the heart of Shrewsbury town centre (see gallery).
View Our Accommodation
Click/tap to view at a larger size
Charnwood Guesthouse (B&B)
If your stay in Shrewsbury is going to be shorter, a comfortable, and welcoming, B&B is exactly what you need.
"Charnwood Guesthouse" is just a mile, or so, from the town centre with easy access to public transport and car routes into Shrewsbury and the surrounding areas.
Other facilities include:

En-suite bedrooms;

Well equipped kitchen, adjacent to the communal living room, available for use by our guests;

Free parking;
Free wi-fi;
Free access to Netflix TV service in communal lounge;
Hospitality tray in bedrooms;
Click here for directions to Charnwood Guesthouse
Tel: 07784 638598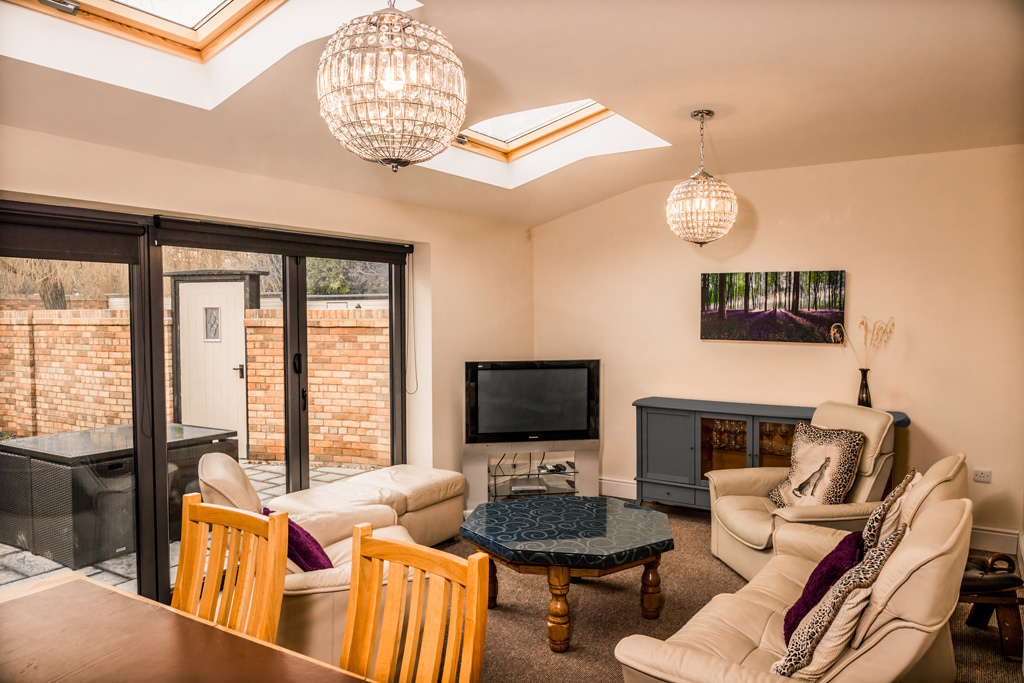 "Shrewsbury Cottage"
Perhaps, you would prefer a family sized home?
"Shrewsbury Cottage" is in a leafy area of Shrewsbury, just a mile, or so, from the town centre. This beautiful and spacious accommodation offers two double beds, a double sofa bed and four single beds, sleeping up to a maximum of ten people. The master bedroom has a four poster bed with en-suite facilities.
At the rear of the property, is a large, quiet sun room with TV, dining table, chairs and easy, comfortable seating also for relaxation time. This area has bi-fold doors opening up into the private walled patio and garden.
Other facilities include:
Groundfloor en-suite double bedroom;
Fully equipped kitchen including dishwasher;
Free onsite parking;
Free wi-fi;
Dog friendly;
You have all the comforts and benefits of occupying your own private space in a spacious home.
Click here for directions to Shrewsbury Cottage.
Tel: 07784 638598
Town Centre Apartments
Want your own space plus the convenience of town centre accommodation?
"Sunday School House" is a beautifully restored listed building situated in the Shrewsbury town centre comprising of two self-catering apartments.
This is the ideal location for enjoying the town centre without the need for any transport. Everything the town centre has to offer is right there for you including, shops, pubs, restaurants, clubs and town centre attractions including the beautiful River Severn.
Other facilities include:
Free wi-fi;
Well equipped kitchen area;

Amazon Echo Dot installed;
Unique setting of a listed building;

Large wall-mounted TV with Netflix;
Town centre location;

The ground floor apartment can sleep up to three people and the first floor apartment sleeps up to six people (three double beds).
Click here for directions to Sunday School House.
Tel: 07784 638598

Share The Leisure and Lessen The Pressure...
Our Web App is much easier to access, and to share, once added to your home screen; find out how.
Please share our mobile Web App with your family members, friends and colleagues you know who like to visit beautiful places.
Let us relieve them of any stress accustomed with planning trips away, and make their visit a smooth and easy thing to do. They will certainly thank you for it!
How to Share Our Web App:
Simply tap the black share bar at the bottom of the screen;
Select a sharing option from text message, email, or post to social media;
Personalise your text, email or social media post: All Done!
It's really that easy!
Want a mobile Web App like this for your business?
Expand your business network; Increase 'word of mouth' referrals; Increase selling opportunities.